'Ritual and Ceremony' will be a 2021 album of the year contender. It's not too early to predict. We Set Sail are 5 blokes from Brisbane playing sad rock music that will resonate with anyone who feels too much. This band makes me happy to be sad. Music wraps me up in a feeling of comfort and sympathy for whatever stress or burden life has ordered off the menu for me today. The affection I have for artists that really lean into the emotional/post genre tag is well earned because they are basically saying 'Hey you? Me too!' and that's enough to put a warm fuzzy feeling in my guts song after song.
There's immediate appeal through the more accessible tunes in addition to some deeper dives and longer sojourns that will require time and repeat listens to really sink in. Same as the last album, it's dreamy, melancholic, anthemic and unashamedly high fiving the touchstones of the genre. Big guitars? Yep. Even bigger guitars with more reverb? Yep. Bright live sounding drums with huge halftime breaks and cymbals washing over everything? Yep. Clean vocals with high harmonies and yelling? Yep. Tight low-mid punch from restless bass lines you can actually hear? Yep.
Start with the killer tune 'Ordinary' and you've got a decent snapshot of all the elements. I love the line 'Ordinary is working against me' and the ending of this song recalls memories of early Something For Kate. Fun fact: this video is a cut of random/found/fun footage taken around the bands recording and writing.
Another highlight comes midway through the album in the rhythmic and driving 'Palm Mutant' which dances around a highly percussive sound and restrained energy. This band are masters at building tension to a point where you just cant wait for it all to break! The ending is massive and I know that crowds will be screaming 'It seems so impossible' right back at them at the top of their lungs. Huge moment right there.
We Set Sail use these really cool samples from films in the transitions between tracks and it's fun trying to determine where they come from and how they relate to the song. The experience keeps the listener engaged throughout rather than the standard cold-cut out and then fresh start in between tracks. It's more akin to a scene-to-scene transition you'd find in a film. For example:
..and then there's this banger..
I don't know where that little clip at the start comes from but I like the tone it sets…and I dig this song because the drone behind the chords and subdued vocals is all kinds of ambient bliss HOWEVER when the thick fuzzy overdriven guitars drop with the band at the 3:15min mark it's a payoff worth waiting for. It's a Weezer-meets-Citizen mashup of sorts and I. AM. HERE. FOR. IT.
This album has been in the making and in waiting for some time. The band had COVID to contend with of course and release plans were affected, being left to their own devices there was more time to develop and prep this release. They self-produced 'Ritual and Ceremony' in their workspace. For the record it sounds amazing. The drums are just big and full and at times sound quite 'live' and roomy. The guitars are thick and massive when they need to be and delicate, ethereal and pretty when required. They filmed their own video's and photographed and designed the artwork. This is DIY done right. The visuals are well maintained too with so much of the imagery tying together in themes, colour palettes, visuals and just everything. Be it the product of a band super dialed in to their aesthetic or just the result of 13 years being a band together…the end product is cohesive and consistent unlike a lot of locals putting out albums.
I will absolutely spend a lot more time with this album over the coming months, I intend to absorb every note, every melody, each heart wrenching yell and breakdown. It's everything I could have wanted from this band and more. I hope you enjoy it as much as I am when it drops March 31st on False Peak Records, A Thousand Arms (US) & Golden Antenna (EU). The vinyl looks oh so purrdy and of course digital and pre-orders are through bandcamp.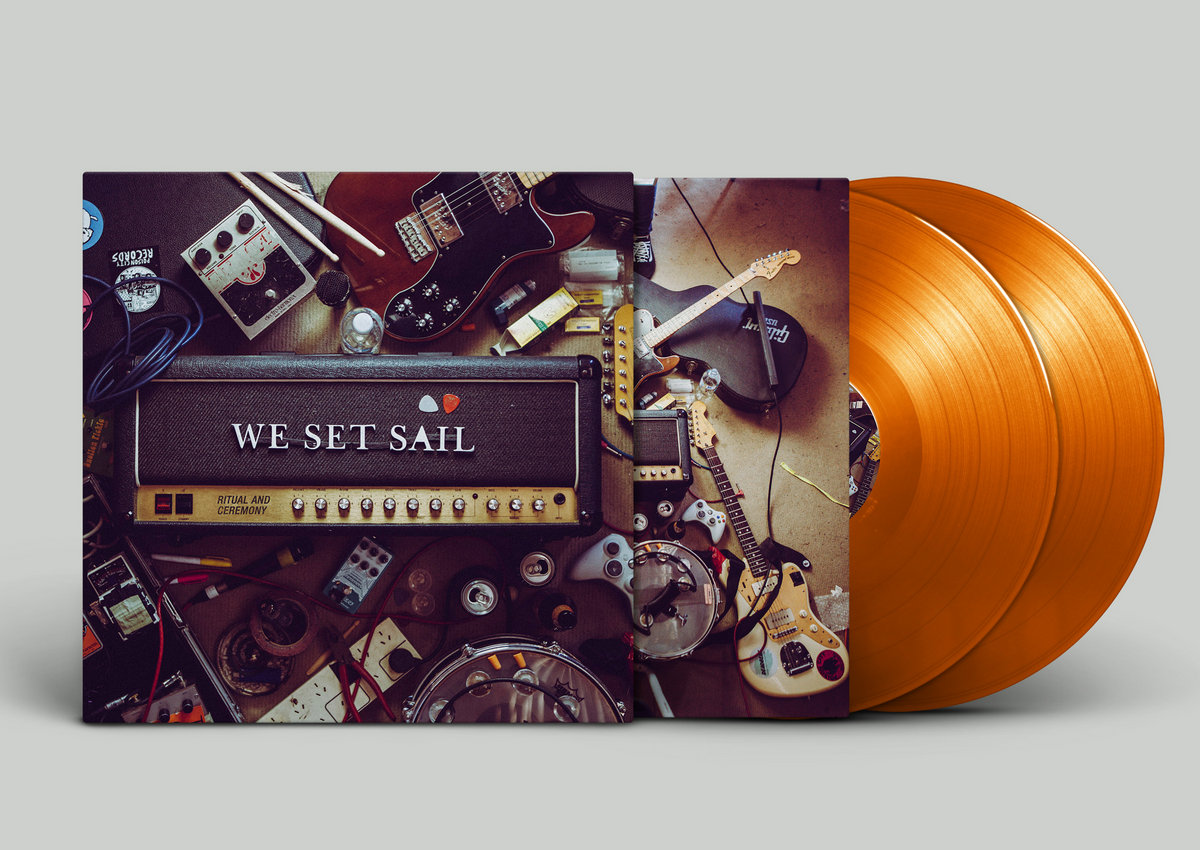 https://wesetsail.bandcamp.com/
https://www.facebook.com/wesetsail/
https://www.falsepeakrecords.com/